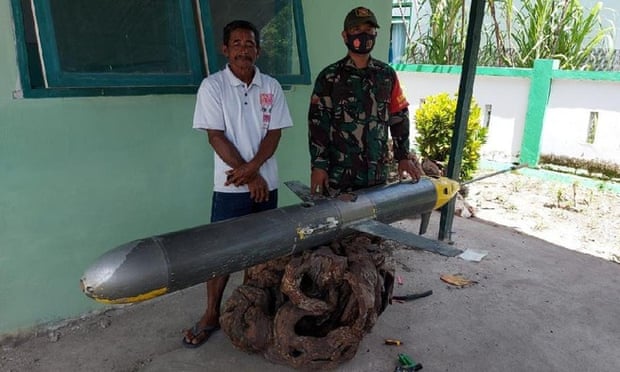 [ad_1]

The torpedo-shaped object equipped with camera and antenna was apparently still active when it was netted near Selayar Island in South Sulawesi on 20 December, with its light blinking and sensors working.
According to Indonesian media, the unmanned underwater vehicle (UUV) has a 2.2m aluminium hull, two vertical fins with wingspan of 50 cm and a 93 cm-long rear antenna.
The fishermen handed over their mysterious catch to the police, and it has now been passed on to the Indonesian military for investigation.
Defence analysts say the object appears to be a Chinese submarine drone known as a Chinese Sea Wing (or Haiyi) UUV. Writing in his blog, submarine warfare expert H I Sutton said Sea Wing gliders have been recovered in Indonesia on at least three occasions.
"The design is broadly similar to other variable-buoyancy propelled gliders. The cutaway is based on inferring the internal layout from photographs of the exterior and general knowledge of other gliders," he wrote.
China, which has been accused of expansionist activities in the Indian Ocean as well as disputed claims to the South China Sea, has recently deployed a fleet of underwater drones in the former.
According to defence analyst Sutton's report in Forbes, China deployed 12 of these underwater drones in the Indian Ocean in December 2019. The gliders logged over 3,400 survey profiles and obtained large amount amounts of hydrological data, claimed to be for scientific purposes.
These underwater gliders can operate for months on end and collect data for naval intelligence purposes. The data gathered by the drone is potentially relevant for submarine warfare.
Another security analyst based in Indonesia, Muhammad Fauzan, said it is most likely that the UUV was mapping future submarine routes as it was found far from Chinese waters and in the strategically crucial maritime route between China and Australia, reported ABC.
"It is at least the third time that such a drone, which I and many people including experts believe was a Chinese-made underwater drone, [has been] found in Indonesian territorial waters," Mr Fauzan said.
He said the find raises significant questions, if the drone was used for intelligence gathering or illegal surveying.
In 2019, a different variant of the Sea Wing UUV was found by Indonesian fishermen on an island close to the South China Sea. In January 2020, another was found in East Java.
The Chinese Sea Wings have a striking resemblance to the US Navy's Littoral Battlespace Sensing-Glider (LBS-G) with only a few differences.
In December 2016 a Chinese navy ship found a US LBS-G and seized the glider. It was eventually returned by Beijing after a diplomatic spar between the two countries.
[ad_2]

Source link