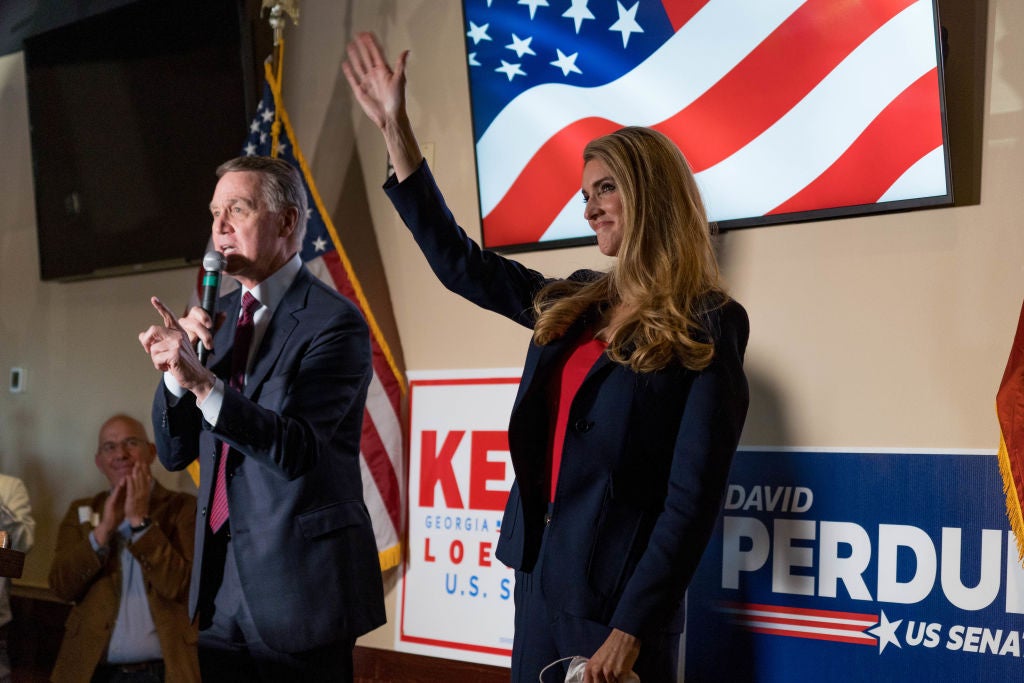 Georgia senator David Perdue, the Republican incumbent at the center of a closely watched pair of runoff elections in the state that could decide who controls the US Senate, is quarantining after coming into close contact with a campaign employee who tested positive for coronavirus, NBC reports.
Mr Perdue's campaign said on Thursday both the senator and his wife tested negative, but would quarantine anyway.
"The Senator and his wife have been tested regularly throughout the campaign, and the team will continue to follow CDC guidelines," it wrote in a statement.
An analysis from the Atlanta Journal-Constitution found that senator Perdue and his fellow Georgia Republican incumbent Kelly Loeffler regularly host indoor events that defy CDC best practices about mask wearing and avoiding indoor gatherings, though the candidates themselves often wear masks.
In November, for example, the pair held a rally in a Cumming, Georgia, restaurant where many of the 300-plus guests did not wear masks, Yahoo News reported.
It's the latest dramatic twist in the runoff election between senators Perdue and Loeffler against their respective Democratic challengers, Jon Ossof and Raphael Warnock.
Prior to the diagnosis, both campaigns were contending with the unexpected development that President Trump wanted substantially higher coronavirus relief checks than the $600 payments he signed into law over the weekend, the highest sum most in his own party were willing to accept.
Both have belatedly declared their support for the new target, $2000 total in stimulus checks for Americans, after sidestepping the issue for days. Senate majority leader Mitch McConnell said Wednesday there was "no realistic path to quickly pass" a Democratic-led House bill that would bump aid checks up to $2000 in the Republican-controlled upper house.
The runoff elections will take place on 5 January, and Democrats need to win both seats to equal Republican's hold on the Senate, which would give a tie-breaking vote to vice president Kamala Harris.