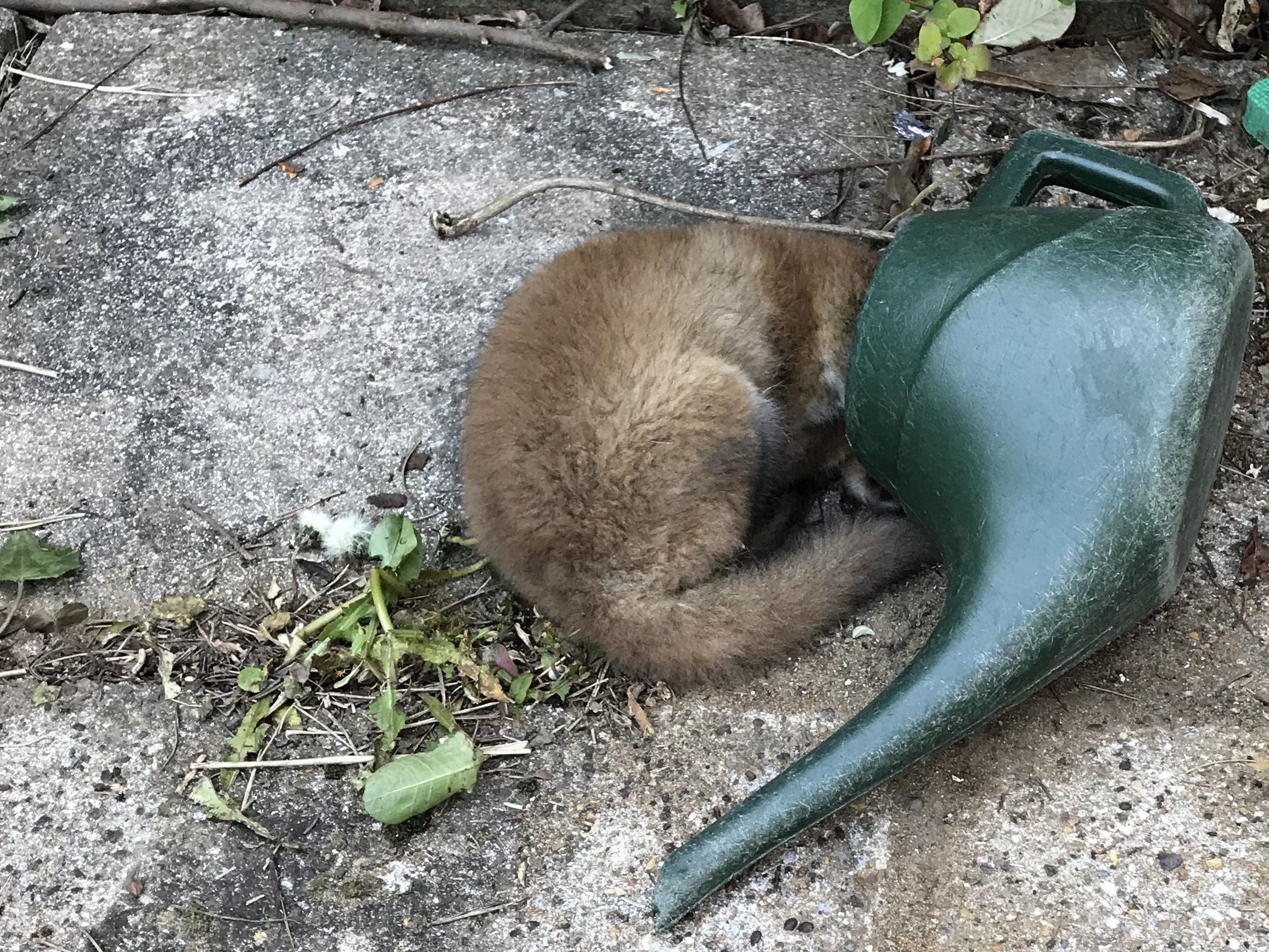 [ad_1]

Rescuing animals from cruelty and neglect for a living can be a tough gig. The job does, however, appear to come with moments that can raise a smile, if the RSPCA's best rescues of 2020 list is anything to go by.
The animal welfare charity, which rescued more than 102,900 creatures last year, has compiled its funniest saves from unexpected and silly situations.
A spokesperson for the RSPCA said: "While 2020 felt like a difficult year, it hasn't all been doom and gloom. Our animals have provided comfort, joy and happiness while we endured lockdown uncertainty."
Comfort was not something a fox cub was feeling when it got its head stuck in a watering can in Sevenoaks, Kent, in April.
Officer Lynn White said: "This poor fox had probably got stuck while he was trying to get some water out of the can. He was very exhausted from trying to remove it himself."
A smothering of Vaseline meant the cub was able to slide out from its watery predicament.
Meanwhile, a goat is the last thing one would expect to see at a bus stop, but a lost silly billy was found at one in Bradford in June after it was seen wandering through gardens.
Inspector Emily Stodart said: "It's certainly not something you see every day."
Officers caught him and took him to a nearby yard for boarding.
Now, there are few places most people would like to find a snake in the UK, except in a vivarium. But some serpents have been getting themselves into a jam in odd spots.
An unsuspecting gas meter reader discovered a corn snake, believed to be an escaped pet, that had it wrapped itself around the pipes in a meter box in Hampshire.
Elsewhere, a 4ft royal python had got itself in a spin when a couple found it when they went to fix their faulty tumble dryer.
RSPCA officer David Hatton, who went to collect the snake from the home in Southport, Merseyside, said: "I'm not sure how he managed to get into the utility room, but it was probably attracted to the warmth of the dryer."
Snakes were not the only smooth-skinned creatures finding themselves in a spot of bother in 2020.
Both the RSPCA and fire service were called to Merseyside in September to rescue a frog that had got stuck in a drain cover.
RSPCA inspector Leanne Cragg said: "When I arrived, his whole body was wedged tight with his back legs stuck in the drain.
"I've heard of toad in the hole – but this is my first frog in a drain."
The full list of the RSPCA's top rescues of 2020 can be found here.
[ad_2]

Source link